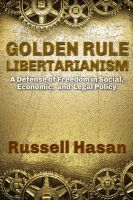 Golden Rule Libertarianism: A Defense of Freedom in Social, Economic, and Legal Policy
This book justifies libertarian politics using the Golden Rule of ethics to achieve a provocative new political theory called GOLD. GOLD defends the libertarian position on antiwar, drugs, prostitution, civil liberties, abortion rights, and gay marriage, GOLD explains why free market capitalism is necessary for freedom, and GOLD proves that capitalism helps the poor and racial minorities.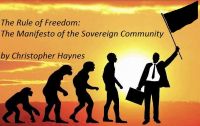 The Rule of Freedom: The Manifesto of the Sovereign Community
From the perspective of a longtime student of political science, economics and the world of possibilities, the Rule of Freedom is about why we do not need government, why we do not want government, and why government is in fact immoral and irrational. This book explains the roots of war, police abuse, terrorism and poverty with clear evidence and examples.