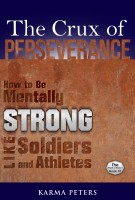 The Crux of Perseverance — How to Be Mentally Strong Like Soldiers and Athletes
by

Karma Peters
NO MATTER WHAT YOU ARE GOING THROUGH, YOU SHOULD ALWAYS HANG ON! This book tells you why, pulling back the curtain on the crux of perseverance and explaining in detail everything from apathy and poise to tenacity. We revisit in this book the key specific traits and neuronal practices that tenacious folks, including first-rate athletes and people in the military, use each and every day.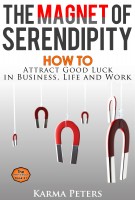 The Magnet of Serendipity — How to Attract Good Luck in Business, Life and Work
by

Karma Peters
WHY ARE SOME PEOPLE INEXPLICABLY LUCKY THROUGHOUT THEIR LIVES WHILE OTHERS SEEM ILL-FATED FROM CRADLE TO GRAVE? The book answers the question and reveals easy yet powerful ways to set your life in motion and invite positive karma in your life, helping you understand that serendipity can be cultivated and that sometimes it is initially shrouded in what we think is bad luck.