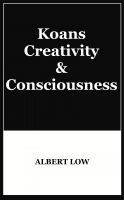 Koans, Creativity and Consciousness
by

Albert Low
Price: Free! Words: 10,130. Language: English. Published: September 22, 2012. Categories:
Nonfiction
»
Philosophy
»
Zen
(4.00 from 1 review)
What is most important, but invariably overlooked, is not what I am conscious of, but that I am conscious. The only way this can be verified or even considered is by "1st person" enquiry. A way by which this can be established is by koan practice. I explore ways to allay scientific suspicion towards subjective accounts, and show how koan study is used as first person scientific inquiry.