The Dynamics of Meaning
Human existence is perhaps the most intriguing and perplexing idea to ponder. What is the meaning of existence? Somehow we arrived here. We know that we will one day depart. So what is it all about? What is life about? How are we to go about pursuing enlightenment out of such a dynamic and perplexing question? The Dynamics of Meaning sets out a rational path for seeking an understanding of life.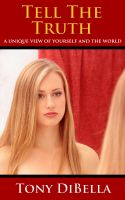 Tell The Truth
Not for the faint of heart, this book aims at forcing you to face yourself and your life in a way you've never done before. The author takes you on a journey through his own beliefs to demonstrate that there are other more unique ways of viewing various aspects of life that affect each of us personally. He only asks that you read with an open heart and mind to achieve your own unique truth.