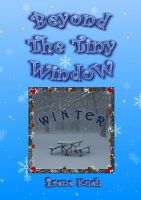 Beyond The Tiny Window: Winter
by

Irene Kueh
This is the second book in Beyond The Tiny Window series. Based on the title, this book is all about Winter. Be it flurry, snowy, or icy, this one's for you! Each page has a picture of a winter scene followed by a saying or caption or short inspirational quote.
Father Earth - Mother Earth is Our Father
by

Rachel Connor
Perhaps the new name, "Father Earth," will invoke and inspire more respect for our home planet. Rachel Connor suggests we combine the titles of "Mother Nature" and "Father Earth" to promote better care for our life source. Rachel jokes, if you want to call it, "Petrified Turtle," she'll vote for that also.