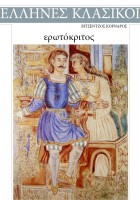 Βιτσέντζος Κορνάρος, Ερωτόκριτος
by

Johnny Ka
Price:
$4.99 USD.
Words: 85,420. Language: Greek. Published: November 21, 2015. Categories:
Fiction
»
Poetry
»
Medieval
Ο Ερωτόκριτος είναι ένα ποιητικό μυθιστόρημα που συντέθηκε από τον Βιτσέντζο Κορνάρο στην Κρήτη τον 17ο αιώνα. Αποτελείται από 10.012 ιαμβικούς δεκαπεντασύλλαβους ομοιοκατάληκτους στίχους στην Κρητική διάλεκτο, των οποίων οι τελευταίοι δώδεκα αναφέρονται στον ίδιο τον ποιητή. Κεντρικό θέμα του είναι ο έρωτας ανάμεσα σε δύο νέους, τον Ερωτόκριτο και την Αρετούσα.
The Song of Merlin: Volume 1
by

Brian Rhodes
Dance with the song of Merlin set upon Cornwall's raging windswept shores and delight in the eternity of eternia. Find and use the thirteen treasures of the ancient Celts and become one with the prophecies of Merlin.