Surviving the Single Dad Syndrome
by

Kevin J. McArthur
The author shares his experiences as a single dad, from his breakup and divorce to his darkest days, and how his love for his children helped him stumble through single parenting until he was able to enjoy the life he was meant to have with his children. Whether your a single dad, parent, or grandparent, you will find wisdom in these pages on caring for children of all ages.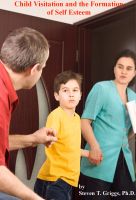 Child Visitation and the Formation of Self-Esteem
by

Steven T. Griggs, Ph.D.
This ebook discusses what not to do after the divorce, or put more positively, what to do to help your child(ren) cope and process this very big life-changing event with specific emphasis on the development of their self-esteem. This is a time when kid's self-esteem is likely to take a very big hit, unless...
Related Categories