knew world order #3: All-inclusive collective Prime directives
by

Sylvester Marshall
ALTHOUGH THE primitive NEWNESS RAN OUT HUNDREDS OF YEARS AGO, we are all stilled trapped in the PRIMITIVE ERA, EVOLUTION STASIS, MANAGE TO STAND THE TEST OF TIME, WITH EASE: These are a comprehensive list of all of the relevant life lessons, now everyone can rise collectively, and shine like encrusted precious gems in the sky.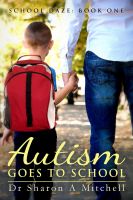 Autism Goes to School - Book One in the School Daze Series
by

Sharon A. Mitchell
(5.00 from 1 review)
Amazon Bestseller - After suddenly receiving custody of his five year old son, Ben must learn how to be a dad to a child with autism. Ben's sixty hour a week work schedule goes out the window. Teacher Melanie Nicols sees Ben as a dead beat dad, but grudgingly comes to admire how he hangs in, determined to learn for his son's sake. Her admiration grows to more as father and son come to rely on her.
Related Categories