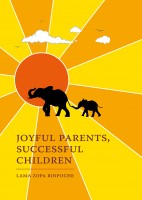 Joyful Parents, Successful Children
by

Lama Zopa Rinpoche
This book contains advice from Lama Zopa Rinpoche, not only providing the Dharma context for how our children should be brought up but also containing many helpful suggestions of how we can introduce simple Dharma practices for our children.
Becoming Adults in the 21st Century: A Close Look at Parenting Advice
by

Maggie Dail
Have you noticed that it takes longer for children to become adults than before? It takes up to 15 years for what used to take about 3 years. Maggie Dail reviews the parents and the experts' article on the subject. Dail and those she consults, begin with the premise that God's Word, the Bible, is the definitive word on parenting and any other endeavor in life.
Related Categories