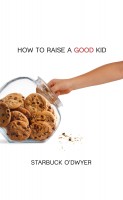 How To Raise A Good Kid
by

Starbuck O'Dwyer
(4.33 from 3 reviews)
Essential reading for every parent, How To Raise A Good Kid is a collection of 23 hilarious, honest and heartfelt stories about growing up and raising children that help parents teach lessons about core values such as faith, honesty, courage, hard work, perseverance and love. One of the best books about parenting and successfully navigating the challenges of childhood that you will ever find.
Your Sleepless Baby The Rescue Guide
by

Rowena Bennett
Babies are not born as good or bad sleepers, they become that way. In Your Sleepless Baby, Rowena Bennett describes medical, developmental and behavioural reasons for babies who experience broken sleep, trouble falling asleep and unusual sleeping patterns. Rowena brings many years experience as a midwife and lactation consultant.
Related Categories