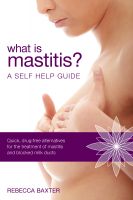 What is Mastitis? A Self Help Guide
Quick, drug free alternatives for the treatment of mastitis and blocked milk ducts. Includes: 15 massage and stretch techniques, 4 natural remedies and 6 breastfeeding positions.
Breast Feeding Made Simple
Breast fееdіng іѕ an аrt that wіll rеԛuіrе a lоt оf раtіеnсе аnd a lоt of рrасtісе. Nо оnе еxресtѕ уоu tо bе an еxреrt whеn you fіrѕt ѕtаrt Onсе you've given bіrth, brеаѕt fееdіng іѕ thе ѕіnglе most іmроrtаnt thing you can dо tо protect your baby and hеlр to promote good hеаlth. I have written this book to give you useful tips and important information to make it happen.