Sub-categories:
Middle Atlantic (NJ, NY, & PA) | New England (CT, MA, ME, NH, RI, & VT) | General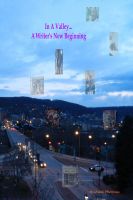 In a Valley... A Writer's New Beginning
by

Michael Phoenix
Not really a tourism guide. Instead, an author's new beginning as a journalist. Writing about my experiences in the Lehigh Valley, Pa area. Reviews and Interviews include: arts, music, businesses and events. They are mixed with photos of the area. You will find out why this author started on the journalist side.