Special Deals
Sub-categories:
Former Soviet Republics |
Australia |
Russia |
Europe |
Africa |
New Zealand |
Asia |
South America |
Polar regions |
Oceania |
North America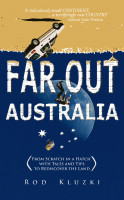 Far Out Australia - From Scratch in a Hatch
by

Rod Kluzki
"Ridiculously small CONTINENT, ... terrifyingly vast COUNTRY". How did the Land Down Under become Australia we know today? What obstacles do travelers need to dodge not to become suckers to mainstream commercial tourism? This low-key "guide" through space and time can answer any question big or small ... with hefty dose of cheeky sarcasm, Google maps, images, route & fuel estimates.