Special Deals
Sub-categories:
Former Soviet Republics |
Australia |
Russia |
Europe |
New Zealand |
Africa |
Asia |
South America |
Polar regions |
Oceania |
North America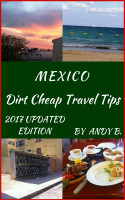 MEXICO Dirt Cheap Travel Tips
by

Andy B
**2017 UPDATED EDITION!! Condensed guide and awesome pictures of the best beaches, accommodations, groceries, outdoor and ocean activities in several Mexico cities with tips to survive the airport too! Realize your dreams and learn how to see all the beauty of this not-so-big-world without having to save for years or win the lottery first! Life will be what you make it -- so make it awesome!