Paranormal Intruder: The True Story of a Family in Fear
An innocent family finds itself completely helpless against the sudden onset of paranormal activity in their quiet rural home. A knife embedded in a kitchen cupboard, crockery smashed by invisible hands, and blood-chilling growls emit from thin air. Caroline and her husband Neil search for answers as they try to protect their family from the unseen entity that seems determined to rip them apart.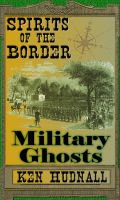 Spirits of the Border: Military Ghosts
The "Spirits of the Border" series is an invaluable guide to ghost hunters and paranormal enthusiasts. This series allows the reader to explore the supernatural in different places throughout the country. This volume examines paranormal activity of military sites. From Civil War battlefields to the US Army's military intel training grounds this is a this is a fabulous guide to 40 different sites.