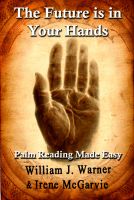 The Future is in Your Hands: Palm Reading Made Easy
A face might wear a mask, but hands don't lie! Future events and past influences are all marked out on our hands, there for anyone with the knowledge to see. This book teaches how to predict the future and understand yourself and others through studying the shape of the hand and fingers. This book will show you everything you need to know to get started doing palm reading immediately.
Principles of Palmistry: A Self Learning Manual
(5.00 from 1 review)
One of the easiest and logical system of palmistry that i ever saw: Sophie (Gaurav's Student). The best thing about this book is that it is written by a teacher of palmistry so he knows what it takes to make students learn: Michael Nelson (Gaurav's Student). This book is written for the sole purpose of teaching the palmistry in a scientific and rational manner to serious learners.