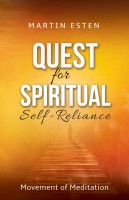 Quest for Spiritual Self-Reliance
by

Martin Esten
Martin Esten's Quest for Spiritual Self-Reliance focuses on what the author calls "the ongoing movement of meditation." Martin presents probing insights into issues such as meditation, love, relationships, spirituality, and the nature of thought. He shows that, paradoxically, all of our problems in life are created by thinking and identification with what he has termed the little "me."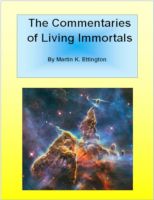 The Commentaries of Living Immortals
by

Martin Ettington
This is a book about living immortals in their own words.Yes—I mean that—people who are hundreds if not thousands of years old and living in our world today. ere is what "Stelth" one of the immortals says about the immortal community: I have met over 170 other immortals dating from 20,000 years old to 110 years old, from around Earth. Gods are in another league.