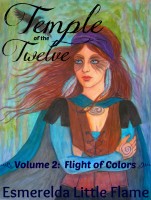 Temple of the Twelve (Volume 2: Flight of Colors)
by

Esmerelda Little Flame
Flight, daughter of the Clan of Silver, has been called by the Twelve Colors on a quest of great danger--but great importance. In a world where the colors were long worshipped, spirituality, belief in magic and all that the colors represent is waning. Travel with Flight on a quest that will invoke the Twelve Colors and all they represent, in her life--and your own.
Temple of the Twelve (Volume 1: Novice of Colors)
by

Esmerelda Little Flame
Ever since she was a little girl, Caroline knew the Twelve were calling to her--and claiming her. But followers of the Twelve colors were persecuted, and the danger was growing. Still, Caroline felt compelled to take the risk, so she sought and found the secret Temple of the Twelve. An enchanting, colorful fable that invites you to experience a spiritual awakening like you've never had before.
Related Categories