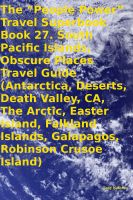 The "People Power" Travel Superbook Book 27. South Pacific Islands, Obscure Places Travel Guide (Antarctica, Deserts, Death Valley, CA, The Arctic, Easter Island, Falkland Islands, Galapagos, Robinson Crusoe Island)
The South Pacific Islands are sometimes called Oceania. Naura and Kiribaldi are up north relatively speaking midway between Hawaii and Australia. Most of the rest jut down in an archipelago starting at Papaua, New Guinea except for Fiji, Western Samao and Tonga off to the east on their own then further east of that is French Polynesis/ Tahiti off on its own.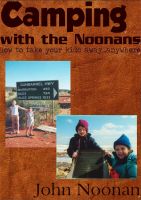 Camping with the Noonans
Tracey and John Noonan have travelled all over Australia in their 4WD including some very challenging locations. This book is about how to travel in Australia (and ultimately anywhere) including the outback and the deserts with children on board. It's about being self-contained and self-sufficient on the road without having to tow a campervan or trailer.