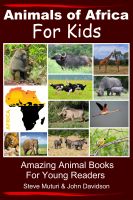 Animals of Africa For Kids Amazing Animal Books for Young Readers
by

Steve Muturi

&

John Davidson
THE BIG FIVE A wildlife safari to East Africa is not complete until one has seen the Big Five. "Safari" is a word that originates from the Swahili of East African coast, and means "journey". The term Big Five was originally meant to identify the most dangerous animals to hunt, but today it identifies the animals that are a must-see. One can only shoot them with a camera!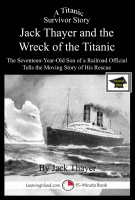 Jack Thayer and the Wreck of the Titanic: Educational Version
by

LearningIsland.com
The Seventeen-Year-Old Son of a Pennsylvania Railroad Official Tells the Moving Story of His Rescue ONE of the calmest of the passengers was young Jack Thayer, the seventeen-year-old son of Mr. and Mrs. John B. Thayer. When his mother was put into the lifeboat he kissed her and told her to be brave, saying that he and his father would be all right. Educational versions have CCSS activities.
Related Categories