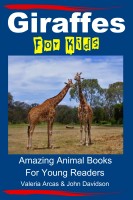 Giraffes For Kids - Amazing Animal Books For Young Readers
by

Valeria Arcas

&

John Davidson
Together we will discover amazing facts about giraffes. Where they live and how they live? What do they eat? How they sleep? Which animals are their fiercest predators and many other interesting facts about them, come on, take your water bottle put on your explorer hat and boots (don't forget sun block too) and join me in this fantastic journey through the African savanna. Are you ready?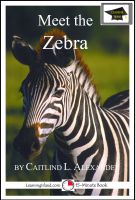 Meet the Zebra: Educational Version
by

Caitlind L. Alexander
This book is a shorter version of our popular "Zebras: Striped Horses of Africa" and is for early readers. With only 1089 easy to read words, young children can experience the joy of learning about the zebra. They will find out: How do you tell how old a zebra is? Do zebras like to live with other animals? What is a zebra's favorite food? Educational Versions have CCSS Activities.
Related Categories