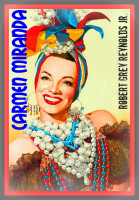 Carmen Miranda
by

Robert Grey Reynolds, Jr
In August 1985, a full thirty years after her untimely death at 46, Carmen Miranda was remembered by 18 fan clubs in her native Brazil. Her post-death popularity was also impressive in Europe and the United States. My e-book looks at her entire career. By 1939 she was a feature performer at the Waldorf Astoria's Sert Room in New York. Miranda sang, danced and acted in Hollywood films and on TV.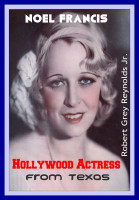 Noel Francis Hollywood Actress From Texas
by

Robert Grey Reynolds, Jr
The last twenty years of actress/singer Noel Francis' life are very sketchy. Little is known about her death except that she died on October 30, 1959. The surname Stevenson was attached to the name Noel Francis at the end of her life. It is uncertain if she was married or had children or grandchildren. She was a moderately successful film actress just when movies were acquiring sound, i.e. 1930s.