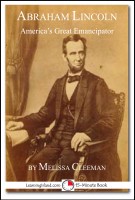 Abraham Lincoln: America's Great Emancipator
by

Melissa Cleeman
Abe Lincoln came from humble beginnings but he learned from an early age the power of education. He wanted to help Americans and bring equality for all. During the Civil War, he put his skills to work. He made two famous speeches: The Gettysburg Address and his Second Inaugural Address. They changed America forever. Find out more about Lincoln and how he became President in this 15-minute bio.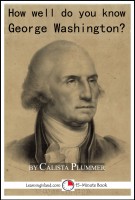 How Well Do You Know George Washington? A 15-Minute Book
by

Calista Plummer
George Washington was the first President of the United States. We know a lot of things about this man. Some of them are true. Some of them are not true. For many years, people thought George chopped down a cherry tree as a boy, but it looks like this story is not true. Here are some things that are true about George Washington. How many do you know?