So You Want Some Money?
by

Jessica J
A financial guide for middle school students aimed to give them and their families a better understanding of basic finances.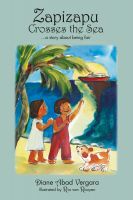 Zapizapu Crosses the Sea
by

Diane Abad-Vergara
Zapizapu Crosses the Sea is a fascinating children's book. The script and colourful illustrations work together to simplify the concept of international trade and personify those involved around the world from grower to consumer. In its rawness we discover that the simple yet important concept of 'playing fair' is important for children and grown ups alike.