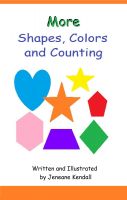 More Shapes, Colors and Counting
by

Jeneane Kendall
More Shapes, Colors and Counting is the second book in this series. There are different shapes, colors and also counting up to twenty. Kids will enjoy finding the colored shapes in this fun book.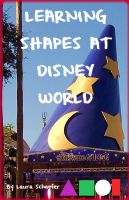 Learning Shapes at Disney World
by

Planet Explorers
This is a fun picture book for children (aged 2 - 4 years), designed to help them learn shapes with beautiful images of Walt Disney World. In the first section of the book, shapes are introduced. In the second section, children have the chance to identify shapes on their own. If your family loves Disney, you'll love this cheerful book.