Rough Mix
by

Johnette Napolitano
(5.00 from 1 review)
Johnette Napolitano was born in Hollywood, California and has toured the world as the main voice and bassist of the Los Angeles rock band Concrete Blonde. A respected and prolific songwriter and recording artist, Napolitano is also a gallery artist and has studied art in Mata Ortiz, Mexico and Flamenco in Spain.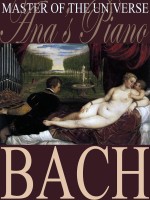 Master of the Universe: Classical Favorites- Ana's Piano - BACH
by

Anastasia Lily
(5.00 from 1 review)
Not quite the Ozzy Osbourne of the baroque period –though perhaps he was seen as such in regions where religious music was outlawed—J.S. Bach was a rebel in his time. His struggles within the aristocratic music establishment eventually landed him in prison. But just a few centuries after being disgraced, he was resurrected and elevated into prominence as the greatest composer of the universe.