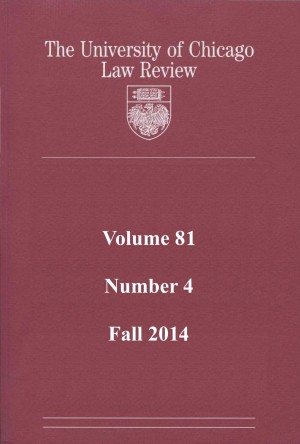 University of Chicago Law Review: Volume 81, Number 4 - Fall 2014
by

University of Chicago Law Review
Vol. 81, No. 4 contents include: * The Legal Salience of Taxation, by Andrew Hayashi * Tax-Loss Mechanisms, by Jacob Nussim & Avraham Tabbach * Regulating Systemic Risk in Insurance, by Daniel Schwarcz & Steven Schwarcz * American Constitutional Exceptionalism Revisited, by Mila Versteeg & Emily Zackin In addition: Comments on immigration, hearsay, child support, environmental law, and ADR.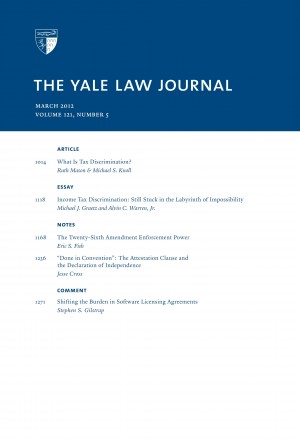 Yale Law Journal: Volume 121, Number 5 - March 2012
by

Yale Law Journal
Yale Law Journal, Vol. 121, No. 5 (March 2012): Principal contributors include Ruth Mason and Michael Knoll (an article on tax discrimination), and Michael Graetz and Alvin Warren, Jr. (a featured essay also analyzing tax discrimination). Student contributions discuss such issues as the 26th Amendment's enforcement power, the Attestation Clause in history, and software licensing agreements.