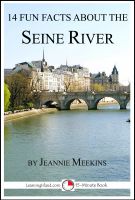 14 Fun Facts About the Seine River
by

Jeannie Meekins
The Seine River is a slow moving river. It begins 1545 feet (471 metres) above sea level and runs 482 miles (776 kilometres) in its journey to the English Channel. Once a major trade route, it is navigable by ocean going ships. The Seine has been subject to monster tides, and great feats of architecture. Its source is a place of worship and its basin was one of the earliest areas settled by man.
14 Fun Facts About the River Thames: A 15-Minute Book
by

Jeannie Meekins
The River Thames has a colorful history. It was a river highway before railways and roads were built. It brought flood, disease and death to thousands of Londoners. Today it contains over 80 islands, 200 bridges, 20 tunnels, 45 locks, six public ferries and one ford. Yet it still reminds us of its history with an average of one body a week being found in its waters. Find out more in this fun book.