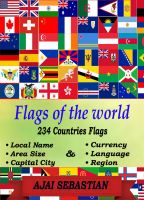 Flags of the World
by

Ajai Sebastian
Welcome! This book is a Flag Reference Guide which contains 234 countries flags and also includes:- • Local Name • Area Size • Capital City • Currency • Language • Region and also this book is a fully Illustrated and Printer friendly..
Is It Ever Okay To Steal?
by

James Benitez
(3.50 from 2 reviews)
Have you ever taken what's not rightfully yours? We've all been told stealing is bad, but many continue to steal. Some make excuses for stealing. Some steal without knowing they're stealing. Does that make it alright? When, if ever, is it okay to steal?