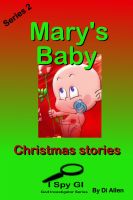 Mary's Baby
"I've been to a stable. It was plain, and dark, - and guess what? It was smelly. Not really the place where a king would be born! What do you think?" Stories you might hear at Christmas time. This book isn't just for reading, it's for having fun and being part of a team as we discover Bible truths that will help us live life to the full. Kids enjoy these books – and so do some adults!! It's FREE!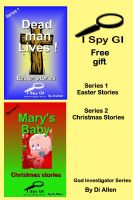 I Spy GI Free Gift
(4.00 from 1 review)
The God Investigator Series (I Spy GI) has 100 Bible stories available. As a gift to you Dead Man Lives and Mary's Baby are yours to enjoy - so you can see the sort of format the books take. Enjoy the stories and activities. They are the same format as all the other books. The only difference is that there are only four I Spy GI cases (stories) instead of the twelve in the other group books.