People Are Different
by

Lovey
(5.00 from 2 reviews)
Illustrated by children, People Are Different promotes a world view of tolerance. The Doctor Suess-like poem may be fun and silly, but the message is strong -- acceptance is the path to a better world. To accept and embrace those different from oneself is perhaps one of the most valuable social skills of all. The human family is stronger for its diversity.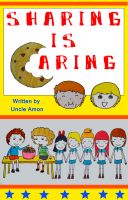 Sharing is Caring
by

Hey Sup Bye Publishing
(5.00 from 1 review)
Do you want to instill good morals and values in your children? Sharing is Caring is a cute and silly rhyming book about the importance of sharing with others. This is a great book to read aloud or before bed! This book will teach your child the benefits of sharing and instill great character and values. Your child will learn important morals and benefits of sharing!