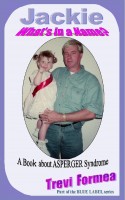 Jackie - What's in a Name?
by

Trevi Formea
(5.00 from 2 reviews)
Jackie was the youngest child born to a 41 yr old mother. An ultrasound on her mother at 14 weeks gestation, showed Placenta Praevia and an abortion was offered. Her mother was determined to have her baby - even though she would be raising it alone. When Jackie was four, tests revealed that she had Asperger Syndrome - a condition inherited from her father. (PG)- Suitable 10yrs onward.