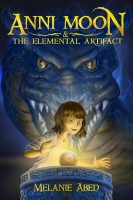 Anni Moon and The Elemental Artifact
(5.00 from 1 review)
Books For Kids: Anni Moon & The Elemental Artifact: An Elemental Fantasy Adventure: Anni Moon Series Book For Kids Ages 6-8, 9-12 Anni Moon is thrown into the world of Elementals when her best friend, Lexi, is kidnapped and it's a race against time to save their lives.
Double Trouble (Adventures of Rascals Polly & Gertie 2 Books in 1)
Two Rascal Books in One! When Polly and Gertie collect filthy bubblegum from the pavement, Great Aunt Mabel bans them form playing together. Too bad for Auntie 'cause Polly and Gertie are in the school choir together, and they want to be famous like Justin Bieber. But when Polly accidentally wee-wees on the classroom floor, Miss Badger kicks her out of the choir.