Foxy
by

Michael Lahanis
(5.00 from 2 reviews)
Foxy begins his day looking for fun with the Rabbit family but becomes caught up in an exciting rescue.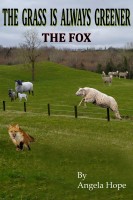 The Grass Is Always Greener - Book 2. The Fox
by

Angela Hope
(5.00 from 1 review)
This continuing short story holds some valuable lessons. The sheep in Joe and Maria's field were happy. Until one dark night a big bad fox dug under the fence. He was hungry! Thanks to Penny and Rambo their little lambs were safe.