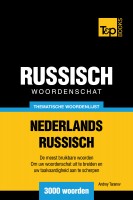 Thematische woordenschat Nederlands-Russisch - 3000 woorden
by

Andrey Taranov
T&P Books woordenlijsten zijn bedoeld om u te helpen vreemde woorden te leren, te onthouden, en te bestuderen. De woordenschat bevat meer dan 3000 veel gebruikte woorden die thematisch geordend zijn. Dit woordenboek bevat 101 onderwerpen zoals: kleuren, maanden, seizoenen, meeteenheden, kleding en accessoires, eten & voeding, restaurant, familieleden, verwanten, karakter, gevoelens, etc.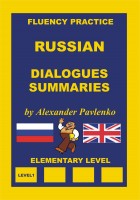 Russian, Dialogues and Summaries, Elementary Level
by

Alexander Pavlenko
(5.00 from 1 review)
Based on the Speech Plasma method, the book is designed to teach students of Russian to use the language at elementary level. The volume contains forty dialogues and 120 summaries. Each dialogue is followed by three stories: two of them are told by the participants of the dialogue and the third one is a summary of the conversation narrated by a third person.