The Demon Purge: Book I of the Legends of Soluna
by

M.B. Scully
Hawk, a recently escaped Fire-Wolf slave, is one of the few who believes the stories of a once-free Island of Soluna. But as an outlaw, fearing discovery by demons and his fellow wolves, he barely manages to survive. An encounter with a Water-Wolf, a native of a vanished nation, rekindles his spirit and thrusts him into a quest to free his Island.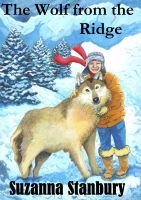 The Wolf from the Ridge
by

Suzanna Stanbury
Wilkie the wolf cub tumbles down the mountain to the town of Puckered Ridge, where he's scooped up by two friendly bears. After an encounter with scary Big Ned, Wilkie is desperate to find a place to hide and ends up in the bedroom of ten-year-old Josh Bright. Josh and Wilkie become firm friends, but it's only a matter of time before Josh's mother discovers there's a wolf in the house.