The Keys to the Animal Kingdom
by

August Hyland
Nine-year-old Sam has a unique gift. He can understand the language of animals. When a master key falls into the greedy claws of a vainglorious squirrel at the New Orleans Audubon Zoo, it is up to Sam to quell the ensuing panic.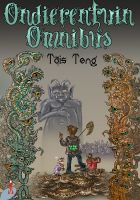 De Ondierentuin Omnibus
by

Tais Teng
'Mag ik een piepie klein pinkje van je?' zeurt de waaktrol. 'Je hebt er toch twee.' Vincent schudt zijn hoofd. 'Je weet wat de regels zijn. Het is streng verboden de dieren vingers te voeren.' Achter het bordje TOILET DEFECT ontdekt Vincent een geheime afdeling van de dierentuin: de ondierentuin. Er wonen dieren die bijna niemand ooit heeft gezien.