Living In Secret Deluxe Edition
by

Cristina Salat
Ever since Amelia's parents got divorced she has wished she could live with her mother and her mother's girlfriend, Janey, but a judge gave her father custody. Finally, after years of living apart, Amelia and her mom decide there is only one thing to do: create a new life with new identities for themselves somewhere far far away.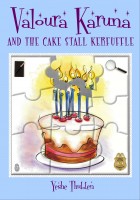 Valoura Karuna and the Cake Stall Kerfuffle
by

Yeshe Thubten
Valoura is a detective, well, she would love to be a detective. So when the money from her mum's bake sale is stolen Valoura knows it is her chance to show her detective chops. Thing is, she already knows 'whodunnit' and the more those nasty Lamb kids cause trouble the more determined Valoura is to 'throw the book at them'. With help from her nutty family, Valoura will prove she has what it takes.
Related Categories