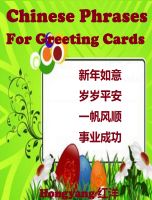 Chinese Phrases for Greeting Cards
by

Hongyang(Canada)/ 红洋(加拿大)
(5.00 from 1 review)
Do you ever find yourself at a loss for Chinese words, phrases or sayings when you write greeting cards or occasion cards? The "Chinese Phrases For Greeting Cards" offers you great ideas on what to write in Chinese characters on a card for many occasions.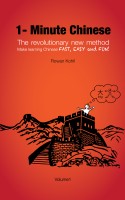 1-Minute Chinese: Volume 1
by

Rowan Kohll
(4.75 from 4 reviews)
The Revolutionary New Method to make learning Chinese fast, easy and fun. Say goodbye to hours of dull studying because now, with the publication of 1-Minute Chinese, anybody can learn Chinese, quickly and easily! Using the amazing art of mnemonics this ground-breaking new book shows you how to effortlessly remember Chinese words, characters and tones, as fast as you can read them!
Related Categories