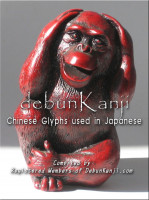 DebunKanji: Chinese Glyphs used in Japanese
by

Registered Members of debunKanji.com
Exploring the fundamentals of Chinese kanji glyphs used in the Japanese language, explaining origin and meaning, pronunciations in both kana and rōmaji, meanings published by external sources, vocabulary examples, stroke count, grade and JLPT levels. Each glyph includes hyperlinks to the comprising elements, other glyphs in which it appears, similar and related glyphs, and verb inflection tables.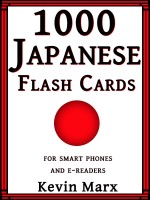 1000 Japanese Flash Cards: For Smart Phones and E-Readers
by

Kevin Marx
Need some help memorizing Japanese vocabulary? Look no further! 1000 Japanese Flash Cards contains 1000 of the most common Japanese nouns, verbs, adjectives, common expressions, and more! 500+ of the most common nouns! 250+ of the most common verbs! 100+ of the most common adjectives!
Related Categories