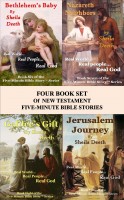 The Four-Book Set of New Testament Five-Minute Bible Stories
by

Sheila Deeth
Gather the kids for an educational field trip through the New Testament. Each story has a valuable moral lesson, plus a short, meditative prayer to wrap things up. They will leave your children begging for "just one more!" This 4-Book Boxed Digital Set contains four complete books: Bethlehem Baby, Nazareth Neighbors, Galilee's Gift and Jerusalem Journey; nearly 200 short stories in all.
Sam O'Riley and the Dream Catchers
by

Tony Worden
Sam O'Riley is by all accounts a typical middle-schooler living in the City of Big Shoulders, Chicago. He has never met a ghost. He's never prowled around graveyards, been chased by killer clowns, or soared without wings. But all that is about to change when he closes his eyes one night . . . when he discovers what lies behind each of us when we dream . . . when he finds the Dream Catchers.
Related Categories