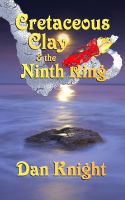 Cretaceous Clay And The Ninth Ring
Jack Clay discovers the Ninth Ring! When an engineer finds a dwarf maiden murdered, the Proconsul of Moab accuses Jack of the Black Dwarf's foul deeds. As he races the clock to catch the Black Dwarf, he runs into a temperamental dragon, chases a ghost, and gets blasted out of the sky! What happens when he catches up with the warlock? Find out in the Strange and Quirky Odyssey of Cretaceous Clay!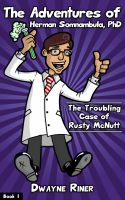 The Adventures of Herman Somnambula, PhD: The Troubling Case of Rusty McNutt
Herman Somnambula, PhD has created the most fantastic invention know to mankind: a time travel invention. With this invention Herman's dreams of finally receiving all of the great scientific awards will be realized. However, a mysterious figure from Herman's past, Rusty McNutt, has different plans for the scientist. Get ready for the adventure of a lifetime!