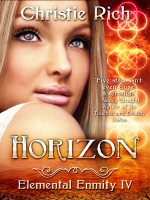 Horizon (Elemental Enmity Book IV)
by

Christie Rich
(5.00 from 2 reviews)
Evil has many faces—unfortunately, Rayla Tate has seen them all, or so she thinks. Since she learned she was an Elemental, she has been hunted for her power. But Rayla hasn't met her greatest foe; she hasn't seen true evil…yet. Rayla must unite with unlikely allies to destroy the evil plaguing Faeresia. For if she refuses, she will succumb to a compulsion she never could have anticipated.
Witch Born (Witch Song #2)
by

Amber Argyle
(4.40 from 5 reviews)
Brusenna is truly beginning to understand the burden each Witch born must bear-the power searing inside her is bright enough to save the world, but she just might burn herself out.