Living In Secret Deluxe Edition
by

Cristina Salat
Ever since Amelia's parents got divorced she has wished she could live with her mother and her mother's girlfriend, Janey, but a judge gave her father custody. Finally, after years of living apart, Amelia and her mom decide there is only one thing to do: create a new life with new identities for themselves somewhere far far away.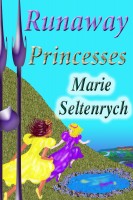 Runaway Princesses
by

Marie Seltenrych
(5.00 from 1 review)
This is the original long version of Runaway Princesses, which now contains 130 graphic pictures created by the author and artist, Marie Seltenrych. The princesses are based on two real little girls who loved to make the most of their lives by pretending. These were my inspiration in 2008, when the tale began.