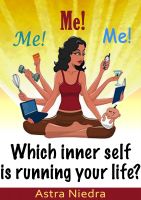 Me! Me! Me! Which Inner Self is Running Your Life?
by

Astra Niedra
(4.00 from 1 review)
Workaholic or Beach Bum? Responsible or Irresponsible? Pleaser or Selfish? Perfectionist or Slob? Conservative or Rebel? This little ebook introduces you to an empowering way of understanding yourself and the other people in your life known as Voice Dialogue & the Psychology of Selves. It gives you examples of selves and explains how you can find a more centred space from which to make decisions.
Related Categories