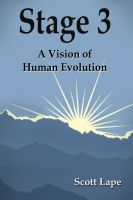 Stage 3: A Vision of Human Evolution
(4.00 from 1 review)
Is there hope for the human race? This book answers that question with a resounding "Yes!" The author presents a model of consciousness evolution in three stages, and applies the model to explore psychological and spiritual growth both in individual persons and in society as a whole. The book culminates in a hopeful vision of a world of peace and plenty for all.
Sha'hallaan's Truth
(4.00 from 1 review)
Small in size but huge in heart, Sha'hallaan's Truth will help you understand who you are and why you are here. Understand where you, the individual, fit in the big picture. Read when you have life questions, when you need reassurance, or simply to review. Each time you read, different insights will be gained. Allow Sha'hallaan's Truth to recharge you with love and understanding.