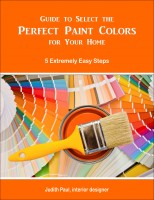 Guide to Select the Perfect Paint Colors for Your Home - 5 Extremely Easy Steps
by

Judith Paul
(5.00 from 2 reviews)
Your guide to success! Choosing colors can be intimidating. The purpose of this book is to help you to select the perfect paint colors that will make you and everybody living with you happy. Forget what you've seen at other people homes or in magazines. This book is designed to help you make choices that are specific to your home and the people who live with you.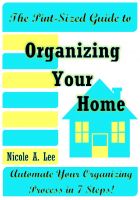 The Pint-Sized Guide to Organizing Your Home
by

Nicole A. Lee
(4.00 from 1 review)
The first of The Pint-Sized Guide series in Organizing by professional organizer Nicole A. Lee, The Pint-Sized Guide to Organizing Your Home automates the process of home organizing in 7 steps, complete with simple flowcharts and easy to remember mnemonics that you can apply immediately to organize any space in your home. Let's free up your space, time and money for the better things in life!
Related Categories