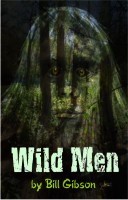 Wild Men
by

William D. Gibson
Beast or man? 220 news articles, most over 100 years old, from 42 states, Canada, etc. Hairy, bipedal, elusive, mostly naked, ape or man-like, sometimes it's obvious what people saw, other times it's not. The wild men-related stories include the 1839 capture of a bipedal hairy creature in Minnesota, an 1829 deadly attack by a monstrous beast in Georgia, and the Leed's Devil of New Jersey.
The Perfect Companion - Understanding, Training and Bonding with your Dog!
by

Karen Davison
The Perfect Companion will help you gain a deeper understanding of what makes your dog 'tick', explores why problems occur and how to solve them and gives you all the tools you need to train your dog. This book is essential reading for all new puppy owners, and a valuable source of information for those of us who want to get the best out of our relationship with man's best friend.