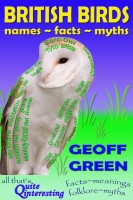 British Birds -Names~Facts~Myths
by

Geoff Green
A book exploring the intriguing world of the meaning of the names of 231 British birds, giving an insight into how birds were given their names. Uniquely the book explores all three name categories for birds - local, vernacular and scientific names, supplemented with interesting facts, data and insights about birds. Enjoy this book as a serendipity of the meanings of the British bird names.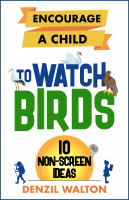 Encourage A Child To Watch Birds
by

Denzil Walton
"Encourage A Child To Watch Birds" provides 10 Non-Screen Ideas that adults can use to inspire a child to discover the natural world. It includes where to start watching birds, which bird books are useful for a beginner, how to use binoculars, what food to put out for garden birds, why nest-boxes are necessary, the benefits of listening to birdsong, discovering what owls eat, and other topics.