Lobulated ears: natural selection gone bionic?
by

Robin and the Honey Badger
Join us in interviewing our own ear lobe, an unassuming flap of pure skin that assumes more significance the more it is scrutinised. Unique social complexity plus a technical niche has – we hypothesise – created selective pressure in Homo sapiens for an organ allowing personal standing to be updated in ways that were not just more artful than in any ape, but the start of our bionic revolution.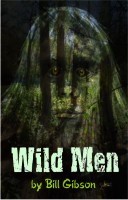 Wild Men
by

William D. Gibson
Beast or man? 220 news articles, most over 100 years old, from 42 states, Canada, etc. Hairy, bipedal, elusive, mostly naked, ape or man-like, sometimes it's obvious what people saw, other times it's not. The wild men-related stories include the 1839 capture of a bipedal hairy creature in Minnesota, an 1829 deadly attack by a monstrous beast in Georgia, and the Leed's Devil of New Jersey.