20 Fun Experiments you can do at Home
The book contains 20 fun experiments you can easily do at home. No need of heavy machines, lots of money, you only need some daily use items and your brain :) Please try these experiments and share your experience with us.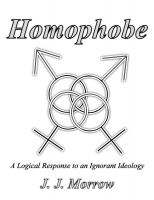 Homophobe: A Logical Response to an Ignorant Ideology
(5.00 from 1 review)
A young graduate student finds herself in an altercation at a coffee shop with a man insisting homosexuality is an unnatural, exclusively human phenomenon. Her intelligence and sense of morality questioned, she sets out to prove him wrong. This work of literary nonfiction is a must read for anyone looking to understand how homosexuality exists as a component of the natural world.